My Blog
Posts for: December, 2016
By Duren Family Dental
December 29, 2016
Have you heard about dental sealants? These preventive treatments have been available for many decades, and more and more children are taking advantage of them. The National Institutes of Health (NIH) estimates that around 30% of kids from 6 to 11 years of age have had sealants applied to their molars (back teeth). Sealants are designed to reduce the incidence of cavities by filling in or eliminating the pits or crevices found in all molars, where decay-causing bacteria can hide and your brush can't reach. But do they really work?
Now, the research is in, and the answer is clear — YES!
Two major studies, each of which reviewed the results of thousands of patients over several years, recently came to the same conclusion: Dental sealants are effective at reducing cavities, and their benefits can last for four years (or more) after application. In general, the studies showed that kids who didn't get sealants were twice, three times, or even more likely to get cavities, compared to kids treated with sealants.
Sealants themselves are protective coatings made of plastic resins or glass-like materials. They are applied in liquid form, and then hardened by a special light. When "painted on" to the chewing surface of a molar, sealants fill in the tiny crevices, or "pits and fissures," that are found there. Uneven tooth surfaces form a perfect breeding ground for the bacteria that cause tooth decay; worse yet, the bristles of a tooth brush can't usually reach them. That's what makes these areas highly susceptible to tooth decay.
Applying sealants is a quick and painless procedure that doesn't require any numbing shots or drilling. Many kids start getting sealants when the first permanent molars come in, around age 5 to 7; they may have more sealant treatments when additional molars emerge, between the ages of 11 and 14.
Sealants are recommended by the American Dental Association and the American Academy of Pediatric Dentistry, and have only a modest cost per tooth. On the other hand, having a cavity filled generally costs substantially more, and may result in more trouble (and expense) down the line — so sealants can make sense economically, as well as preventively. This is especially true for those at high risk for tooth decay.
If you have questions about dental sealants, please contact us or schedule a consultation. You can read more in the Dear Doctor magazine article "Sealants for Children," and "Top 10 Oral Health Tips for Children."
By Duren Family Dental
December 14, 2016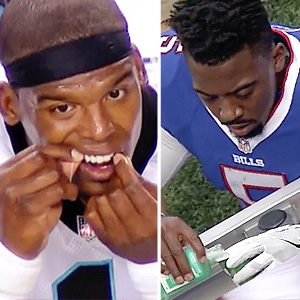 Everyone knows that in the game of football, quarterbacks are looked up to as team leaders. That's why we're so pleased to see some NFL QB's setting great examples of… wait for it… excellent oral hygiene.
First, at the 2016 season opener against the Broncos, Cam Newton of the Carolina Panthers was spotted on the bench; in his hands was a strand of dental floss. In between plays, the 2105 MVP was observed giving his hard-to-reach tooth surfaces a good cleaning with the floss.
Later, Buffalo Bills QB Tyrod Taylor was seen on the sideline of a game against the 49ers — with a bottle of mouthwash. Taylor took a swig, swished it around his mouth for a minute, and spit it out. Was he trying to make his breath fresher in the huddle when he called out plays?
Maybe… but in fact, a good mouthrinse can be much more than a short-lived breath freshener.
Cosmetic rinses can leave your breath with a minty taste or pleasant smell — but the sensation is only temporary. And while there's nothing wrong with having good-smelling breath, using a cosmetic mouthwash doesn't improve your oral hygiene — in fact, it can actually mask odors that may indicate a problem, such as tooth decay or gum disease.
Using a therapeutic mouthrinse, however, can actually enhance your oral health. Many commonly available therapeutic rinses contain anti-cariogenic (cavity-fighting) ingredients, such as fluoride; these can help prevent tooth decay and cavity formation by strengthening tooth enamel. Others contain antibacterial ingredients; these can help control the harmful oral bacteria found in plaque — the sticky film that can build up on your teeth in between cleanings. Some antibacterial mouthrinses are available over-the-counter, while others are prescription-only. When used along with brushing and flossing, they can reduce gum disease (gingivitis) and promote good oral health.
So why did Taylor rinse? His coach Rex Ryan later explained that he was cleaning out his mouth after a hard hit, which may have caused some bleeding. Ryan also noted, "He [Taylor] does have the best smelling breath in the league for any quarterback." The coach didn't explain how he knows that — but never mind. The takeaway is that a cosmetic rinse may be OK for a quick fix — but when it comes to good oral hygiene, using a therapeutic mouthrinse as a part of your daily routine (along with flossing and brushing) can really step up your game.
If you would like more information about mouthrinses and oral hygiene, contact us or schedule a consultation.